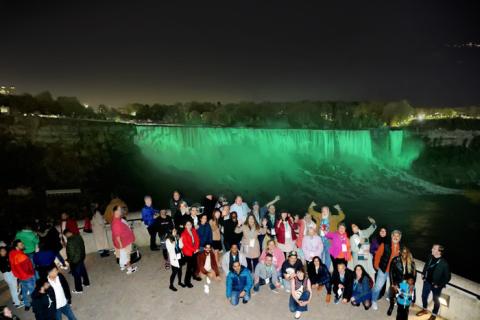 I began speaking openly about my stutter when I realized that my personal narrative of building confidence, achieving professional goals, and leading a fulfilling life despite having a stutter could inspire and empower others. As someone who has experienced the limiting aspects of stuttering firsthand, I wanted to spread a message of resilience and self-acceptance.
This led me to the Joint Congress on Stuttering and Cluttering in Montreal in May 2022, where I delivered a presentation titled, "How Self-Confidence, Self-Acceptance, and a Positive Mindset Have Helped Me to Speak with More Confidence."
At the Congress, an individual suggested that I submit my presentation to the Canadian Stuttering Association (CSA) for the upcoming conference intitled ''Our Voices, Our Stories Flowing Freely'' in Niagara Falls in October 2022. I was delighted when my presentation was accepted. I travelled from Montreal to Niagara Falls with my 5-year-old son for the weekend.
I had a wonderful first encounter with the CSA volunteers and board members. I was warmly welcomed and instantly felt like a part of the family, which was comforting given that most of my family lives abroad. Even my very energetic son, who ran around with boundless enthusiasm, was accepted with open arms. The sense of understanding, acceptance, and love that I felt was truly heartening.
I was able to entrust my son to the kid's program, thanks to Alexandra D'Agostino, who is a registered nurse and the Family and Youth Programming Coordinator for the CSA, and to speech therapist Anny Dubé, who also came from Quebec. They both stutter as well. Although my son doesn't stutter, he is non-verbal and autistic, and the support provided was perfectly tailored to his needs. He had such a great time there, he didn't want to leave.
With a light heart, I delivered my presentation to the attendees who took time out of their day to hear my story. I shared my journey towards self-acceptance and living positively without setting boundaries that only hold us back from our rightful inner happiness. I thoroughly enjoyed answering questions and engaging with the audience.
Following the presentation, we went for a walk to the Niagara Falls. To our surprise, one of the world's most famous waterfalls had been illuminated green in honor of International Stuttering Awareness Day. It was a moment of profound recognition and made me feel incredibly special.
After this unforgettable experience, and with my background in marketing and communications, it felt natural for me to apply for the position of Marketing and Communications Coordinator for the CSA. I am deeply honoured to serve my community and look forward to embarking on this journey together.
Berenice Mengo, MBA is the new Marketing and Communications Coordinator for the CSA