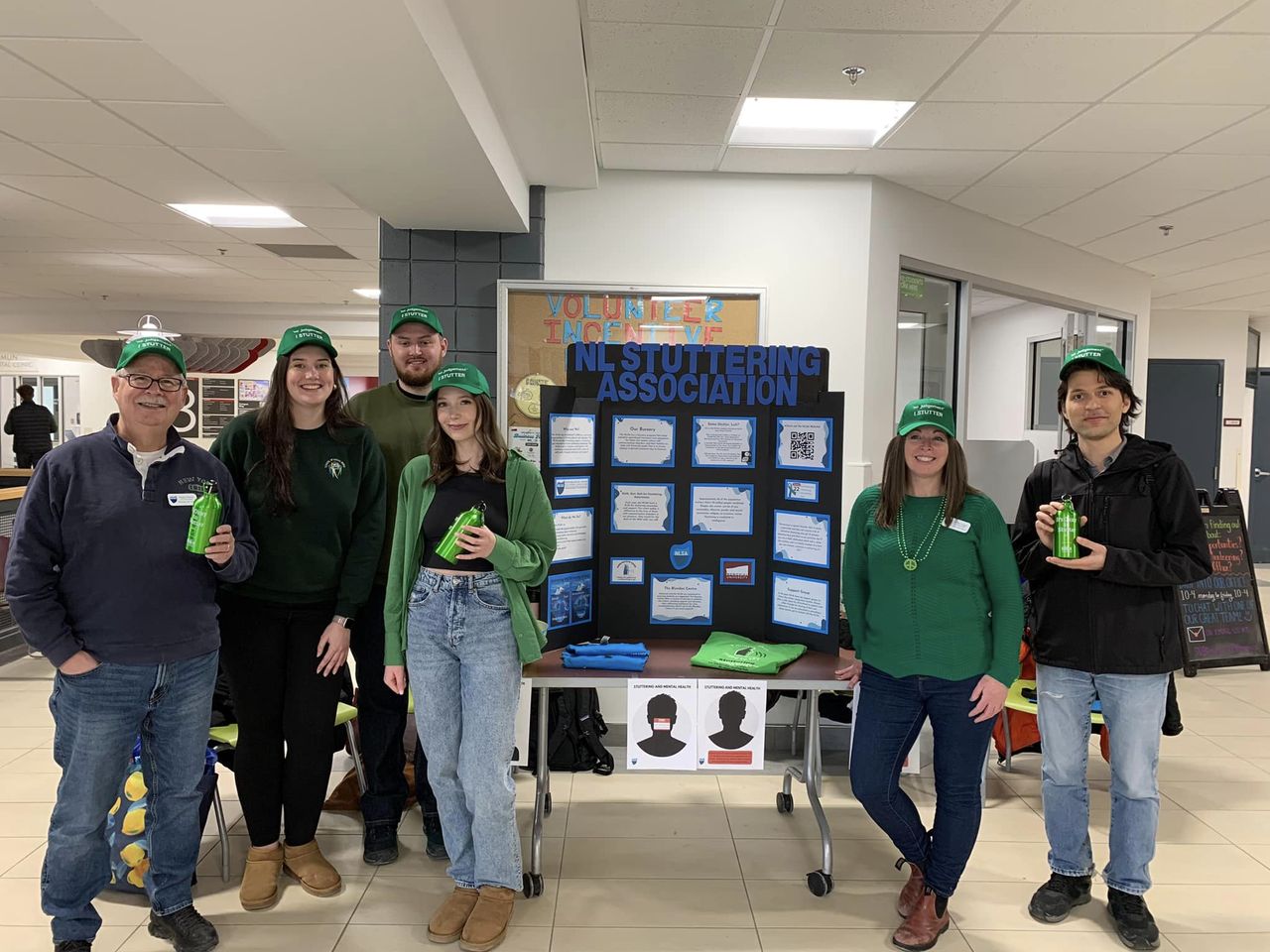 Greg O'Grady, co-founder of the Newfoundland Labrador Stuttering Association, would like to thank students at the Memorial University Newfoundland (MUN) for creating an informative display about stuttering.
Stuttering is not something that receives a lot of attention and is poorly understood by many. On March 17 three MUN Social Work students promoted The Newfoundland and Labrador Stuttering Association (NLSA) by setting up a booth in the University Centre on the 3rd floor. The students, Kataya Stewart, Brooke Rendell and Tyler Yetman, do not stutter and were unfamiliar with it until they got involved in the MUN Social Work Community Service-Learning Project Campaign Launch. Greg and other members of the NLSA found it a "humbling and exhilarating experience" to see their organization be supported in this way and to see understanding about stuttering being promoted to the MUN community.
Because of its high-traffic location a lot of student and staff traffic visited the booth, asking a plethora of questions about The NLSA and stuttering in general. It featured posters, pictures and messages which the students designed specifically for The NLSA. The presentation was outstanding, and everyone was extremely pleased with the attention it got!
Kataya, Brooke, and Tyler deserve much recognition, accolades and applause for their time, commitment and quality of work bringing this Project to fruition and for successfully promoting The NLSA's Mission of Advocacy and Support for People Who Stutter. People who stutter are an under-represented, under-serviced and marginalized population in our province. The launch was a huge step towards creating awareness, understanding, education and acceptance of stuttering, and the NLSA is pleased to see new allies for People Who Stutter among MUN students!
Great work Kataya, Brooke, and Tyler! The stuttering community is grateful for your dedication and talent.
NLSA Posters
The NLSA has also had created a selection of wonderful posters, there are 2 versions and each is available in English and French.  The poster feature the headlines "Sometimes I Stutter" and "Maybe they Stutter" with the sublines "Students who stutter have unique challenges and needs" and "We will wait. We will listen." They feature a QR code link to online information about stuttering. Great work NLSA! To learn more about these posters and their availability, contact Greg O'Grady.