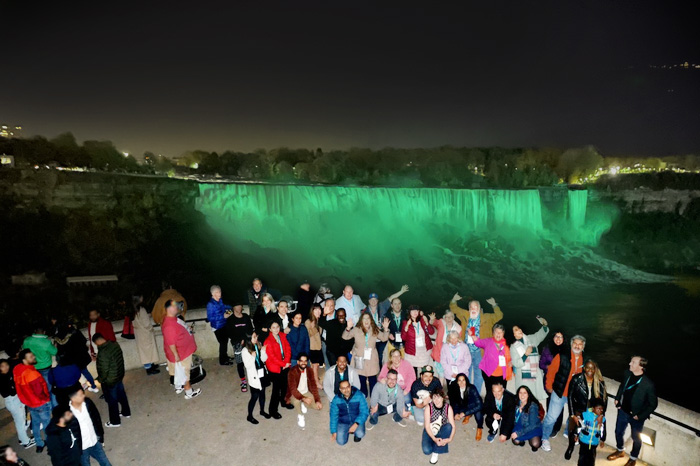 The event started on Friday evening, with a welcoming get-together and lots of great food and conversation at the Hard Rock Club next to the Crowne Plaza Hotel. The next morning, attendees enjoyed the opening ceremonies which were kicked off by a wonderful surprise from our generous sponsor, Harmonize for Speech. In line with their motto 'we sing that they shall speak', they sent along a Barbershoppers Quartet to launch our conference in style with song!  This was followed by Nina G, our illustrious keynote, who inspired us all with her speech and her story.
Workshops, panel discussions and an open mic followed, including Author Book signings with our inspirational and talented guest authors, Nina G (Stutterer Interrupted: the comedian who almost didn't happen),  Ryan Cowley (All the Right Words: my journey as a sportswriter who stutters), Daniele Rossi (Stuttering is Cool: a guide to stuttering in a fast-talking world), David Stones (sfumato: new and selected poems; and Infinite Sequels), and Mary Wood (Beyond the fear of stuttering: my journey to self-acceptance and freedom). 
That evening everyone enjoyed the banquet celebration. With great food and entertainment, and a night trip to Niagara Falls lit up in seafoam green for International Stuttering Awareness Day, it was an enchanted evening! Thanks to musician Francy Goudreault, a person who stutters and lead singer for the band Hello Kelly, who performed a solo set of tunes after the meal that got everyone in a festive mood! He also participated during the day in a panel for stuttering and the performing arts and was available to sign his latest CD Nostalgia and his book which provides prompts for writing lyrics. The night was topped off with dj and dancing.
We launched Sunday's programming with a delicious hot brunch provided by the Crowne Plaza Niagara Fallsview expert kitchen and staff, entertainment by the SingWell international 'Virtual Choir' of people who stutter and their friends, and of course, more networking and getting to know each other.  This was followed by more workshops related to research, personal stories, round tables and topped off with a final open mic session complete with pizza lunch, our raffle draw and even birthday wishes for one of our volunteers!!!
With that, we bid farewell till next time!  You can view more photos of the event on our Flickr page.  We would like to thank all attendees, volunteers and donors for making this amazing conference such a great success!  Special gratitude goes to Harmonize for Speech who provided generous sponsorship, not to mention the delightful entertainment at our opening ceremonies!  A HUGE thank you to the Crowne Plaza Niagara Fallsview staff for welcoming us so graciously and for providing excellent and attentive service and great food. 
Article by Lisa Wilder on behalf of the CSA Conference Planning Committee