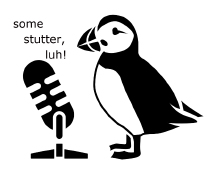 SOME STUTTER LUH! (SSL!) will be hosting a special episode to support Jessica Deluce, a young entrepreneur and person who stutters, who seeks to establish a Not For Profit Foundation to help raise money for people who can't afford speech therapy. Also featured will be three established Associations and a community group of stakeholders coming together in solidarity and collaboration for Jessica to join her in the goal to give back and make her vision a reality.
Successful podcast breaks down barriers
SOME STUTTER LUH! is "Newfoundland and Labrador's first weekly podcast about living with communication differences". The podcast speaks directly to people living with speech and language disorders, and others such as speech language pathologists, researchers, educators and family members. Episodes centre on inclusive language and themes in order to help rebuild confidence and hope by dismantling myths, stigma, stereotypes and barriers.  SSL extends a sincere appreciation and thank you to this amazing group of individuals coming together in solidarity and collaboration supporting the Stuttering Community.
Sharing knowledge and experiences
Representatives from The Newfoundland and Labrador Stuttering Association, The Communications Collaborative, Stuttering Scholarship Alliance and The Canadian Stuttering Association are coming together to share their early experiences, challenges and successes, during the time when they were establishing their individual Associations and Community Group. By sharing of all our wealth of our early experiences, challenges and successes, Jessica will have a solid foundation to establishing her VISION.
Here are profiles of the entities involved:
The Newfoundland and Labrador Stuttering Association was established in 2018 and is a recognized not-for-profit organization that provides support, friendship, and information to the stuttering community. The NLSA's Mission is to increase awareness, education, understanding and acceptance about stuttering and foster a sense of community among people who stutter. Their passionate team of volunteers is dedicated to bringing hope and empowerment to people who stutter and their families through advocacy and support.
The Communication Collaborative  is a cross-sector group of people who stutter, members of provincial government, public-school teachers, early childhood educators, S-LPs, academics, university students, mental health professionals, disability advocates, and members of the NLSA. Dr. Paul De Decker, Associate Professor of Linguistic, Memorial University, is Primary Investigator, and developed the initiative. These community stakeholders are all brought together around a common goal to address the current needs of people who stutter in Newfoundland and Labrador (contact them here).
The Stuttering Scholarship Alliance (SSA) provides scholarships to both speech therapists and persons who stutter. They recognize that supportive speech therapy for persons who stutter is very expensive. The SSA connects people who stutter seeking financial support with their exclusive network of some of the best speech therapists in stuttering in the United States.
And of course, the Canadian Stuttering Association!
Stay tuned for this Special Episode of SOME STUTTER LUH! (SSL)