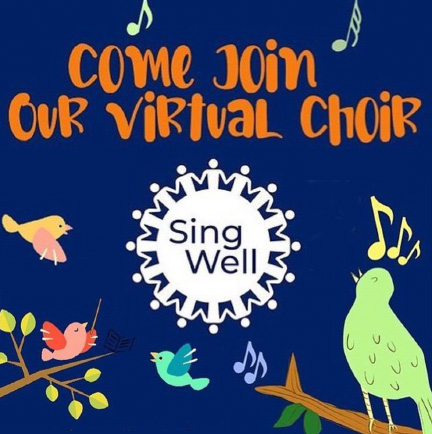 CSA, in partnership with the network "SingWell" (singwell.ca), is organizing a unique virtual choir of people who stutter. Anyone who stutters across the globe can participate! No singing experience is required. Participation is entirely free! The aim of the project is to create a "virtual choir", a video composed of the voices of people who stutter. Individuals from all over the world will record the same song and all the performances will then be assembled together. The joint virtual performance will be presented at the Joint World Congress on Stuttering and Cluttering (JWCSC) to be held May 27 to 30 in Montreal. It will also be available for viewing online from the SingWell website.
SingWell is a Canada-based international network of researchers and organizations (singwell.org) working on the promotion of group singing for people living with communication disorders. The idea of a virtual choir for people who stutter came during the pandemic as people could not sing together in person. The song chosen for the virtual choir, "sing for joy", was specifically composed for choirs or groups who wanted to sing together online during the pandemics.
"The goal of this project is to bring people who stutter around the globe together through song", says Frank Russo, founder of SingWell and professor at Toronto Metropolitan University (formerly Ryerson). "Although they cannot be together physically, people may experience unity through the unison of their voices. As the congress in Montreal has as theme "one world, many voices", we thought that the project would be a perfect match."
Everyone who wants to participate in this unique opportunity can do so until the 16th of May! To get involved or learn more about the project, visit: singwell.org/get-involved.