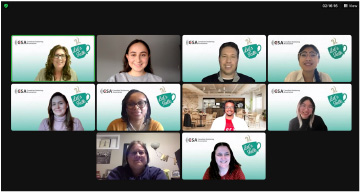 On Sunday, March 27, the Canadian Stuttering Association hosted a new installment of its Let's Talk series, focussed on dating with confidence. The interactive discussion featured Jaleesa Bygrave, a racialized woman and social worker who stutters, and Devon Kirchner, a queer woman who stutters. 
During this interactive session, attendees explored common challenges of dating, shared their experiences and asked questions, and received practical tips for dating with greater confidence and success. Jaleesa and Devon created a safe space for discussion that was insightful, supportive, and motivating. 
Thank you to Jaleesa and Devon for openly sharing their personal experiences and unique perspectives and for answering participant questions with genuine caring and understanding. They made the event a success!
And the winner is…! Congratulations to Obed A, who is the winner of the $100 gift card draw. Thank you to Obed and to all who donated so generously in support of the CSA's work. 
If you like the work that we are doing at the CSA, please consider donating. A donation of $20 and higher will be eligible for a tax receipt!
Thank you to everyone who registered and attended the event! "Let's Talk" again soon! 
Did you miss out on this event? No worries, you can still access the recordings from the event by registering HERE!
Still not sure what to expect? Catch a sneak peek of what was discussed at this event from our first Instagram Live (@CSAStuttering), hosted by Michelle Weinshtein, CSA's Social Media Coordinator, where Jaleesa answers some burning questions from the audience.