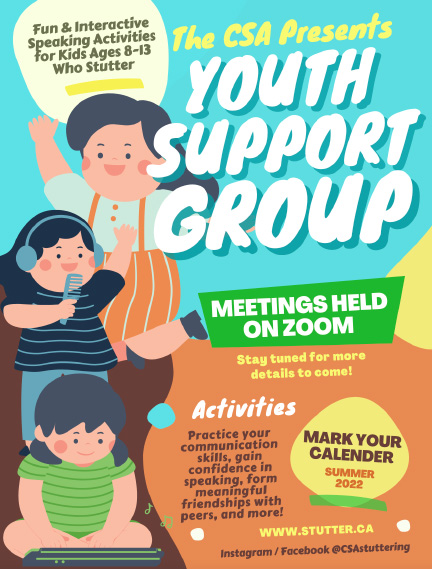 Calling all youth of the Canadian Stuttering Association! In the coming months, the CSA will be working towards the preparation of a new stuttering support group for youth between the ages of 8 and 13. The group, dubbed the "CSA's Support Group for Youth Who Stutter," aims to provide kids and pre-teens with a safe, supportive environment to develop their unique voices around other youth their age who stutter. Specialized activities and discussions held in the group will allow young people to practice their communication skills, gain confidence in speaking, and form meaningful friendships with fellow peers. They will no longer feel alone with their stutter!
Rhea Bhalla, a seventeen-year-old high school student from Calgary, Alberta, is excited to be leading this new initiative. Having stuttered all of her life, Rhea understands the importance of creating opportunities for kids who stutter to gain independence while connecting with peers who face similar challenges. Rhea has experience leading the Calgary Stuttering Support Group for almost three years and has volunteered with children who stutter at the University of Alberta's Institute for Stuttering Treatment and Research.Meetings will be held monthly on Zoom and are open to all Canadian youth who stutter between the ages of 8 and 13 with a signed consent form from their parent/guardian. The group is expected to have its first meeting in late June, and we want to hear from YOU! What day of the week or time works best for your family? Fill out the doodle poll below by May 20th 2022, and we will announce the time and date of the first meeting!
Please check the CSA's website for more details to follow shortly.We cannot wait to "see" you all soon!