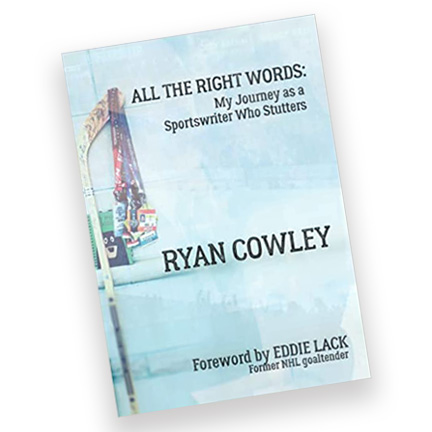 You don't have to be a sports fan to appreciate Ryan Cowley's memoir about his life so far. It's a story about a young man who has been dealt his share of challenges and setbacks - stuttering being one of them - yet his positive outlook towards life wins out. A lot of All the Right Words describes Ryan's formative years, his love of sports and stand-up comedy, and his career as a sportswriter. Early on, a skill for observation and a talent with words led Ryan to write on the internet about his favourite hockey and baseball teams. The youngest of three sons, he hails from a close and loving family, which makes the recounting of his mother's death from cancer all the more devastating. Moving forward, he strives to pursue writing as a career and to challenge himself in performance and public speaking, despite his stutter.
With his humour, a friendly and informal writing style and an eye for detail, Ryan succeeds in talking about sports in a way that is still interesting for non-fans. He recounts his trip to L.A. to see his favourite hockey team the L.A. Kings play live, and later his exhilaration as they advanced to the playoffs and and won the Stanley cup in 2012. But it is his description of participating in media interviews and Q&A sessions that is one of the most impressive things in this book. A primary duty of sports writers is to join in on media scrums where media people literally line up to quickly take their turns in asking questions of players. Hard to imagine a more stressful situation for a person who stutters! Yet he pulls it off well and is often greeted with a patient and empathetic response from players and managers, some of whom are not strangers to stuttering themselves.
All the Right Words is an inspirational story of how persistence and positivity can pay off. It's not been an easy road for Ryan, as he describes losing his mother, jobs that didn't work out, bouts of depression and other health issues and sometimes working as a dishwasher to make ends meet. Yet his good humour and indomitable spirit shine through in this book.
You can purchase All The Right Words here.