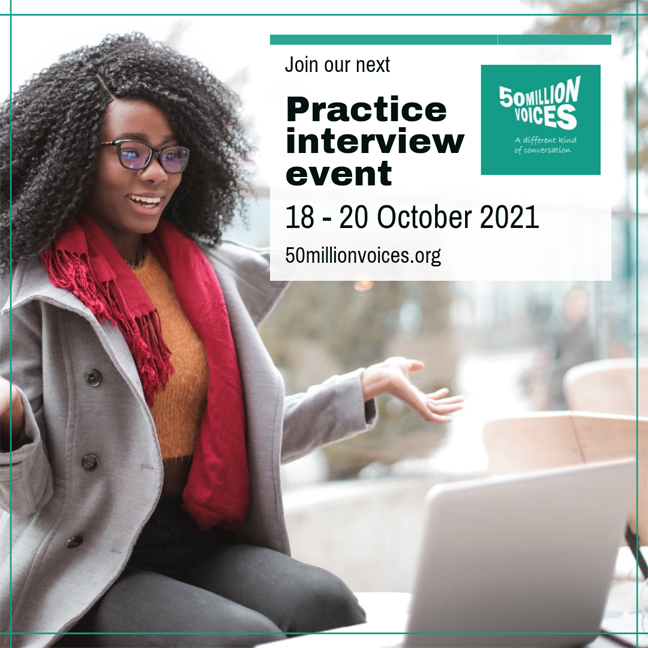 As a participant in this program produced by 50 Million Voices you will be able to practice your interview skills in a judgment-free environment and learn from the 1-1 feedback of people who really want you to succeed.
DATE: 18 to 20 October 2021
Deadline for applications: 27 September 11pm UK/BST
Feedback from similar events we've run recently, involving over 200 participants from 12 countries, is that 100% of participants found their practice interview experience to be valuable. Indeed, over 96% found it either 'extremely' or 'very' valuable. However, it's the words of the participants which really tell the story:
"The past 2 days have really enabled me to face & challenge my fears & preconceptions, but in a totally supportive and safe environment."
Howard Charlton, Interviewee, RAF, UK
"I was an interviewee and got great insights into my CV and career opportunities. It was a very valuable lesson for me in terms of preparation for the world of employment".
Student, Interviewee, India
""I wish I could have more of such platforms to express myself."
Interviewee, Ghana
"This was my first interview session with an international interviewer in my life... I thoroughly enjoyed it. This was the first interview where I stammered without any tension . It was my learning experience and boosted my morale and confidence to present myself for any interview in the future."
Interviewee, India
"The program made me be more confident for my next interview processes and think less about my stutter. After the practice interview, I began a recruitment process with the same interviewer."
Interviewee, France
"As someone who stammers, I could really have done with something like this 10 years ago when I was entering the world of work."
Chris Gemmell, Interviewer, Sage Group.
"It meets a real need for people who stutter to become more confident in interviews and thus be more impressive."
Interviewer who stutters
,
Quebec, Canada.
"An amazing experience. I played my part as an interviewer and ally & got the start of a much need education around stuttering. I was blown away by my two 'candidates' & their courage."
Katie Osiadacz, TSB
"I found it a brilliant and eye-opening experience, and the excellent briefing session perfectly prepared us for the 50 Million Voices practice interviews.
Luke Jacobs, Reach PLC
"I was left feeling overwhelmed at the bravery of the individual I met. He chose his words very carefully and each one had a power that is lost when too many words are used."
Interviewer,, UK
How to apply - and more information
If you'd like to apply, please go to our website https://50millionvoices.org where you'll find the Practice Interview box near the top of the page. Then click on the link for 'More information and application forms'.
The closing date for applications is 27th September.
If you have any further questions, please email us at info@50millionvoices.org
The 50 Million Voices Practice Interview team. September 2021