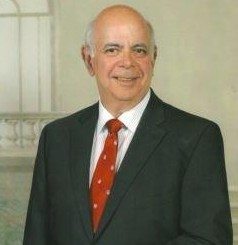 Dr. Bob Kroll
Dr. Bob Kroll had a decades-long and impactful career in stuttering treatment, first at the Clarke Institute in Toronto and then at the Speech and Stuttering Institute. Whenever he could, he participated in research, conferences and fund-raisers, to reach out to the stuttering community, provide effective treatment and ensure that the clinic had funds to help all who needed it. He will be missed across Canada -- and beyond! Greg O'Grady, like many PWS throughout the years, found his life changed for the better after attending the Speech and Stuttering Institute under Bob's leadership. He wrote the following memorial article about him. The CSA joins him in celebrating the life and work of Bob Kroll.
___________________
It is with deep sadness that The Newfoundland and Labrador Stuttering Association (NLSA) share the passing of Dr. Robert (Bob) Kroll on March 17, 2021. Bob had a distinguished career with the Speech and Stuttering Institute (SSI) in Toronto as a clinician, Executive Director and Chair of the Board of Directors. His legacy will be carried on by everyone that have benefited from his work, mentorship and friendship.
Bob was a mentor and friend of The NLSA. This is sad news for The NLSA. Bob's leadership, guidance and support in helping establish The NLSA and his warmth as a person touched us all. It is an understatement to say that he will be missed terribly.
As my speech therapist, Dr. Kroll had a significant influence on my life. Without his influence, The NLSA may never have come to fruition. In a way, Dr. Robert Kroll is the 'VOICE' of The NLSA. His spirit and legacy lives on knowing that The NLSA is continuing the good work that he started by inspiring The NLSA to help advocate and support people who stutter, our families and allies in Newfoundland and Labrador.
Rest in peace our Friend and Thank You.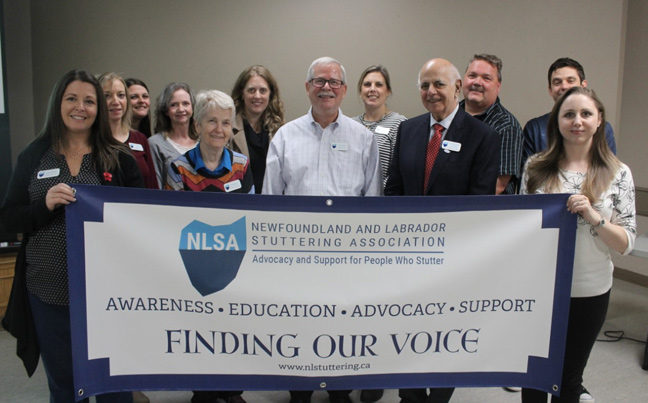 Dr. Bob Kroll (second from right) and members of the NLSA.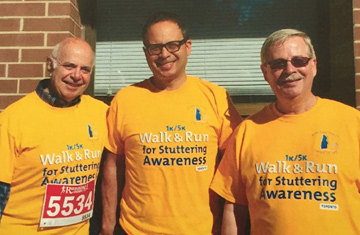 Bob (left) at the annual Fundraiser Walk/Run Event founded by Greg O'Grady (right)