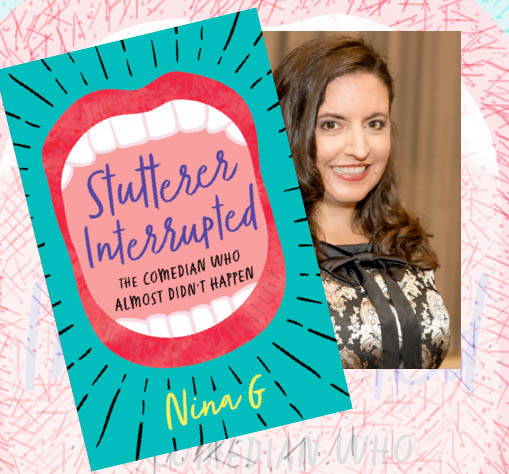 As someone who only began reaching out to the stuttering community in recent years, I wonder what took me so long. Then again, as the old adage goes, better late than never. From attending conferences, to meeting a plethora of fellow PWS and speaking about my journeys as a person who stutters, these past few years have been rewarding -- and refreshing with the reminder that I am not alone in this. Not even close.
A Witty, Insightful Read
One story that drives this home is that of comedian Nina G. I recently had the pleasure of reading her book, Stutterer Interrupted: The Comedian Who Almost Didn't Happen, and the experience was just that: a pleasure. Both edgy and thought-provoking, Nina G.'s journey in her personal and professional lives struck a few chords, provoking both tears and laughter multiple times throughout her book.
From growing up with dyslexia to dealing with a stutter, Nina G. has certainly had to deal with her share of adversity as she offers a perspective only a small percentage of the population can truly relate to. Nevertheless, Nina G.'s story leaves a resonant impact as she takes us through her resilient battles not only to be a successful comedian but a quality person, as well.
Anyone who has the power to make their readers shed tears when speaking of their own harrowing tales is a talent only the top storytellers possess, and Nina G. is one of those.Both brutally honest and laugh-out-loud funny, Nina G.'s book speaks to those of us who have had to work long and hard to achieve what we love and to those of us who have had to struggle to not only find our own voices but to express them -- a person who stutters or not. To the readers in these situations, and especially those people who stutter, "Stutterer Interrupted" will leave you saying – nay, emphasizing – that if Nina G. can do it, so can I.
If Nina G. decides to write another book, I, for one, will be one of the, if not the, first to read it. If you haven't already, I strongly encourage you to read Nina G.'s Stutterer Interrupted. You will be happy -- and even inspired -- once you did.
Ryan Cowley is a professional sports journalist and a regular contributor to the CSA, both writing articles and presentinig at conferences. He lives in Toronto.