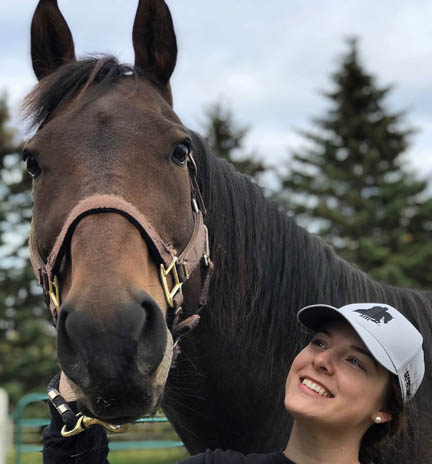 Lani Roy
Stutter was a word I feared since I could remember, not only because I would block on the first "T" but because it was a word that I let define my every action. It decided whether I would raise my hand in class, join in on pick-up volleyball at lunch, or order through a drive-thru window. Most of the time, the answer was no."
Moving Away to University
In my last year of high school, I was accepted to Dalhousie University's Bachelor of Science program in Halifax, NS. With my closet crammed into two suitcases and a mix of fear, anxiety, and uncertainty bubbling inside me, I left the comfort of small-town New Brunswick and moved to the city. Little did I know the next few years would not only reward me with a BSc in chemistry but change my perspective on being a person who stutters.
Meeting Others Who Stutter
Until my third year of university I struggled with my stutter and hated what I thought it represented: inferiority, insecurity, and unintelligence. That year, in a classroom of fifty of my peers, I struggled to say my name. The room went silent but so did I, and for what felt like hours I sat there, speechless, breathless, and wanting to run. This, the most demoralizing event of my life, became a pivotal one since I was then introduced to a professor in my department who stutters as well. Having taken her course the previous year, I was surprised to learn that she and I shared more than an interest in chemistry. That initial coffee date in 2015 marked the day I met another person, aside from my sister, who truly knew the struggles of having a stutter. Weeks later, I attended my first support group meeting in Halifax. In the next two hours, I listened to people recount their experiences with stuttering and I empathized with every one of them. That is when I realized I am one of many people who stutter, not the only one. Feeling empowered by the support group, I began therapy the following year. That was when my mindset began to change. Blending, easy onsets, and deliberate stuttering were instrumental to managing my blocks but what made the difference was how I viewed myself as a person who stutters. My perspective shifted and I realized my work ethic, attention to detail, and patience can be attributed to having a stutter. That same year, I discovered Dalhousie's Food Science program. As a foodie, I figured it was the perfect pairing, so I enrolled in a few courses. Two years later, I graduated from a BSc with distinction and began a Master of Food Science.
Changing Speech Goals, Finding My Self
Since that day in a university classroom, I have confidently chaired several Support Group meetings, presented to audiences of 30+ people, sat on a panel fielding public inquiries about stuttering, attended my first (virtual!) CSA conference, and ordered exactly what I wanted from a drive-thru window. I now take pride in being a member of the stuttering community and advocate whenever possible. Since changing my speech goal from fluency to communication, I have learned to stutter in a better way. I have learned that effective communication is not about how you convey a message but what that message entails. I still block on the first "T" in "stutter", but I no longer associate it with feelings of guilt, shame, and incompetence. Instead, that word represents an ongoing journey of self discovery, humility, and compassion that has truly shaped me into the determined young woman I am today - who just happens to stutter.