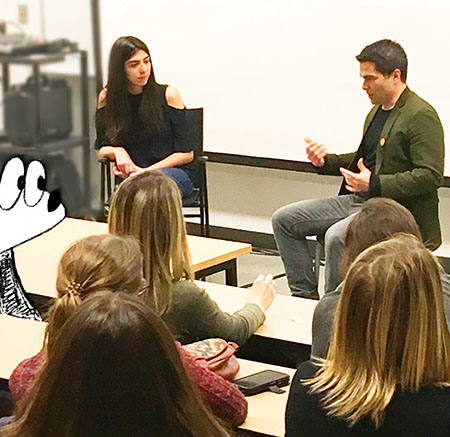 Q&A with filmmaker, John Gomez, moderated by Tangled Tongues
founder, Josephine Torossian. Franky Banky in attendance.
I'm still on a high from attending the Canadian premiere of the award winning When I Stutter documentary film co-hosted by the Association des bègues du Canada (ABC) and Tangled Tongues, an association for university students who stutter (see Facebook group here), in Montrèal on March 8. The film was screened with French subtitles funded by the ABC and professionally translated by Geneviève Lamoureux, who has translated many other stuttering media including my own book for launch this autumn.
The screening took place at the Université du Québec à Montréal and was a sold-out event with attendees coming from as far away as the United States, Ottawa, Chicoutimi, Quebec City, and, in the case of yours truly, Toronto. Many in the audience were speech language pathologists (SLPs), student SLPs, their professors, and those of us who stutter.
Filmmaker, John Gomez, who flew in from Los Angeles to participate in the screening, created the beautifully shot When I Stutter to reveal the profoundly emotional impact that stuttering has on those of us who grew up with the communication disorder. Through the stories of a diverse group of 19 individuals, viewers are taken through their highs and lows via stories of hopelessness and triumph. A storyline in the film follows Jason Peterson, a young adult, on his journey in speech therapy from taking a long time to say his name and being hung up on when trying to ask a store clerk their hours of operation…
Voice on phone: How can I help you?
Jason (stuttering): Hello, my name's Jason and I have a stutter.
Voice on phone: I'm sorry?
Jason (stuttering): I have a stutter. I just have…
[Person on other end hangs up]
Jason: Okay. Bye.
...to gaining new control over his speech and fully asserting himself and advertising his stuttering on the phone...
Voice on phone: Yes, how can I help you?
Jason (stuttering): Hello.
Voice on phone: Hello.
Jason (stuttering): I have a stutter so it's hard for me to talk… but… I just had a few quick questions.
Voice on phone: Okay.
This storyline shines a spotlight on the beauty that can occur when someone who stutters meets the right person (in this case, Jason's SLP) at the right stage in life. Educational vignettes are also interspersed throughout the documentary effectively illuminating some of the mysteries and myths that surround stuttering.
Reception and origins of the film
The movie shows the beauty that can occur when someone who stutters meets the right person at the right stage in lifeJohn noted to me after the screening that the audience at the premier was very receptive – laughing and crying along with the protagonists while also hanging on their every word as their stories unfolded. I, too, couldn't help being pulled in despite it having been my third time watching the documentary! My first two times was in preparation for my interview with John for my podcast last year when he shared how the seed for making the film was planted when John was in graduate school to become a speech language pathologist. One of his professors, Gail Wilson Lew, M.A., CCC-SLP, who also plays a main role in the film including being Jason's speech pathologist, stressed the importance of addressing the emotional impact of stuttering in therapy sessions. This would also become the focus of When I Stutter.
Spanning over 4 years, a kickstarter campaign, and a lot of hard work and sacrifice, the seed grew into "an engaging and entertaining documentary on stuttering, with a couple of unforeseen surprises and several funny sequences", as described by ABC president, Jean-François Leblanc. Along with the unforeseen surprises are scenarios familiar to many of us who stutter such as finding the courage to pick up the phone and ask for a date, standing up to a bully, avoidance behaviours, and having sentences finished by well-meaning fluent people to name a few.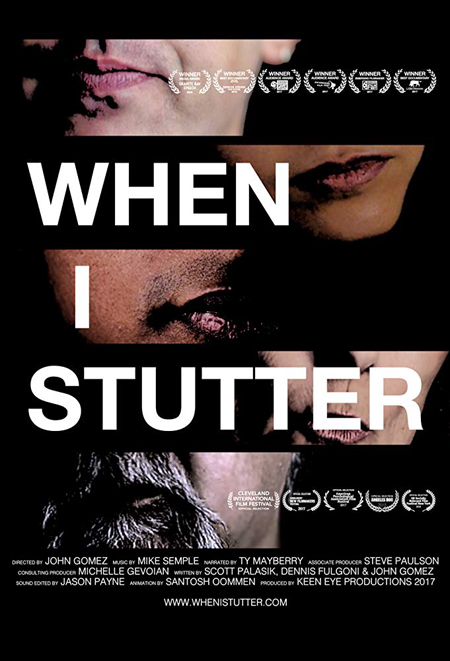 My friend Audrey Bigras, research professional and member of the ABC board of directors as secretary, had a huge smile on her face after the screening. I asked her how she liked the film and she replied with relief that the film "shows a realistic image of stuttering. It's not over-dramatic or not focused on a 'cure'". What I like about When I Stutter, and what sets it apart from many documentaries and YouTube videos about stuttering is the film does not imply that stuttering is a sign of failure and that the only option to living happily ever after is fluency.
As John explained on a recent episode of Xceptional Leaders podcast, "A lot of times we [SLPs] concentrate on this thing called fluency. You'll hear me not use the word fluency a whole lot. I use stuttering. Because in my estimation, the goal is not to make somebody more fluent, but rather have them say what they want, when they want, whether or not they stutter", a philosophy he credits to film participant, Dale Williams, Ph.D., CCC-SLP, BRS-FD.
Q and A session with John
Following the screening was a raffle for two copies of my book (I pulled out the winning raffle tickets!) and a bilingual question and answer session with John and moderated by Tangled Tongues founder, Josephine Torossian. Some of the questions asked included why John chose to make a film about stuttering (to address the emotional impact of stuttering), which was his favourite moment during filming (shooting from behind Richard Alvarado, one of the 19 people interviewed, riding his motorcycle through the tree lined backroads of Santa Rosa), future projects (yes, there's more to come from John), and how people can purchase a copy of the film (check whenistutter.org).
John also shared that Jason recently got engaged to be married to which I proceeded to do an internal high-five. John did such a great job at enabling the protagonists in the film to share their stories that it's hard not to root for them.
The film as an educational tool
Along with being an excellent film for stuttering awareness, When I Stutter also makes a great educational tool for student SLPs. During the question and answer session, one of the professors in the audience, Caroline Bredeson, M.Sc.(A.) of the University of Ottawa, revealed that one of her students turned to her after the screening and said "You could have saved us four classes by simply showing us this film!"
For Raphaël H-B, film student at the Mel Hoppenheim School of Cinema, When I Stutter is "really a masterpiece." He adds, "I find the greatest achievement of John Gomez's film is how it keeps you captivated from beginning to end, through the originality and honesty of its protagonists, the pace of its editing and the illuminating value of its content on stuttering - and beyond it. I know many people in the film industry that have been making films for more than 10 years and never had any honors or did a film that made an impact. I was truly impressed by his film."
When I Stutter lives up to its name and as Josephine later said to me, "John Gomez created a film that the stuttering community can be incredibly proud of!" This is definitely a documentary film you won't want to miss. On a scale of one to five stars, I give When I Stutter ...five galaxies! Details on how you can watch the film are available on the When I Stutter website.
Daniele Rossi is a regular contributor and supporter of CSA and other stuttering associations around the world. He works as a digital strategist and cartoonist, see his website for more information.