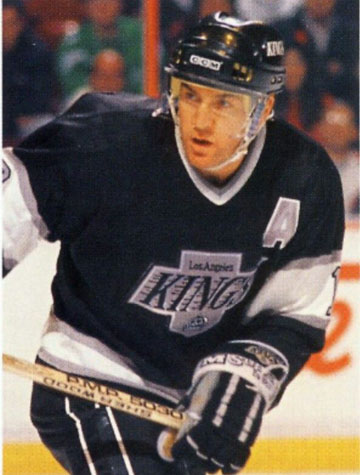 Of the approximately one percent of the world adult population who stutters, among them is Dave Taylor, former captain — and later general manager — of the Los Angeles Kings. He worked his way from the nickel mines of Levack, Ontario, to forge an illustrious 17-year playing career before embarking on a successful career as an NHL executive.
Taylor almost never saw his boyhood dream come to fruition. He was deemed too light at 150 pounds to even play in the NHL — and being drafted in the 15th round certainly didn't help his cause. Despite having the odds stacked against him he not only made the NHL but went on to score 431 goals and 1,069 points throughout his career, joining an exclusive club of high-scoring players.
A Star Player – and a Leader
In addition to his on-ice accomplishments, Taylor had the honour of being the Kings' captain for four seasons from 1985-86 to 1988-89. But while captaincy in hockey is one of the highest accolades, it does require a great deal of communication. While some captains in NHL history have been known to lead by example on the ice, many more have led the way through verbal communication, whether in the locker room, on the ice or even in the community. Dave Taylor was one of those captains.
"As long back as I can remember, I stuttered," Taylor told Jerry Crowe of the Los Angeles Times during a January 2011 interview. "I always dreaded having to speak in class. I was probably ashamed of it, so more often than not, I wouldn't say anything. Everybody said I was a quiet kid, but a lot of the time I was just afraid to speak."
"I've really made some good strides and I'm proud of that fact," Taylor also told Crowe. "I was able to take something that really controlled me and turn it to where I had most of the control."
Getting help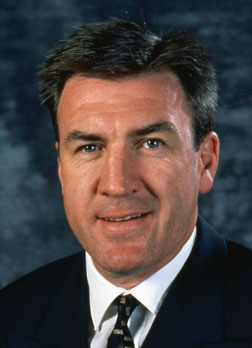 Dave Taylor
In an interview with The Stuttering Foundation of America, Dave said he has always been open about his stuttering. Early in his NHL career Taylor when interviewed after games on the radio, Taylor would always fake hyperventilation to guide him to fluency. He credits his triumph over stuttering to his work with famed speech-language pathologist Vivian Sheehan in Los Angeles.
Working with Sheehan, Taylor was been able to make tremendous strides to overcome his stuttering to make public speeches as an NHL executive; first as the Kings' general manager (from 1997 to 2006) then as a Director of Player Personnel; then with the Dallas Stars, and the St. Louis Blues. While he could not have been any more reliable as a player on the ice — akin to, according to Crowe, "Joe DiMaggio in center field," doing interviews off the ice was a challenge to say the least.
When he started with therapy, he was introduced to a group of other people who stutter and he learned that he was not alone. "Nobody could speak," Taylor said. "Nobody could say their own name. It was interesting to see that obviously you're not the only one that has this problem."
After two years of therapy, Taylor became so comfortable that, upon being asked, he agreed to speak at a national convention of stutterers. Taylor continued to address large crowds such as in 1995 at The Forum when the Los Angeles Kings retired his No. 18; and at his alma mater, Clarkson University in Potsdam, N.Y., upon being awarded with an honorary doctorate.
Stuttering doesn't stop this journalist, either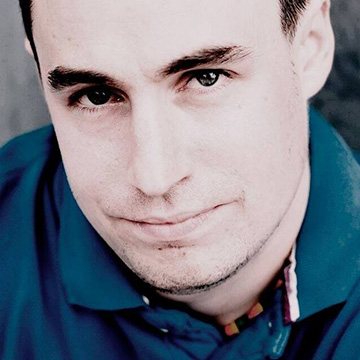 Ryan Cowley
I met Dave Taylor on two occasions, both very brief, so I didn't have much of an opportunity to speak with him. That being said, I have learned a lot from the longtime King, like so many others who have gone through life as a stutterer. As a journalist who stutters, if I am interested to speaking with anyone — particular within the Kings organization — I will e-mail them and explain my situation. Thankfully everyone who has responded to my requests has exemplified understanding and patience to a "T". In fact, those who preferred to converse over the phone agreed to let me e-mail them my questions ahead of time so they can simply call and answer my questions.
When the film, 'The King's Speech' was released in 2010, I was ecstatic. Never before had a movie about stuttering hit the mainstream. Just this year, a young comedian by the name of Drew Lynch graced the stage of 'America's Got Talent.' A stutterer, Lynch wowed the show's judges and audience not only with his material but with his perseverance. He is now touring the United States, using a self-deprecating approach to get laughs — and why not? As a stand-up comedian myself, I used the same approach. One of my favourite jokes is that I bought a stuttering GPS for my car and when I tried to get to Los Angeles I wound up in Denver.
Sometimes people who do not understand my affliction have talked to me as if I were a child, yet there are many more who have been so understanding that they will insist that I take my time while they wait for me to speak, even if it means a few minutes out of their busy days. Then, in turn, I like to answer those on social media who post negative stories and ask if there are any good people out there anymore with a resounding, "Yes!" There are always people around willing to give us a chance.
Despite his stuttering, Dave Taylor has accomplished so much — as an athlete, as an executive and as a person — that a speech impediment cannot stand in the way of such success. Despite my stuttering, so have I — and quite frankly, I wouldn't have it any other way.
Ryan Cowley is a writer who lives in Toronto who has covered major sporting events for web and print publications. This is his third article for CSA. He is also a graduate of Humber College's Comedy Writing & Performance program. See his website at the Big Salad.