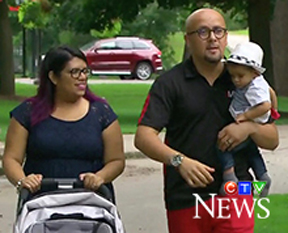 My name is Zishan Ghulam, but people call me Shaun as it's easier to pronounce. I am 35 years old and I am in the 1% of the worlds population who stutters. It runs in my family as my brother also stutters. I had it worse, but believe it or not I am happy I did, because it has taught me so much.
Early struggles
Stuttering has taken a toll on my life and caused many struggles. When I was younger I would not open my mouth to speak out in class or be a vocal person anywhere I went. I was always nervous, couldn't find a proper job, never had a love life and my grades weren't the greatest. I never sought professional help, as I was dealing with so many issues. On top of stuttering I had a bad case of acne, felt like a constant failure, experienced hair loss at a young age and had general confusion about life. It is all part of my story and the struggles I had to deal with growing up in Scarborough, Ontario.
Taking risks, facing fears
In 2006, I took the plunge to attend College in Toronto. I was accepted into Seneca College at York University into Digital Media Arts. It was a very exciting time for me. I wanted more out of life! My speech was still a challenge but I managed to communicate enough to graduate with a 3.60 GPA.
School was where I met Janet. She was 18 years old, a beautiful young lady – today she happens to be my wife of almost 7 years. She is the person I was waiting for my entire life, someone who understands and supports me. It's been a magical journey! Now we have a beautiful child together. I've been self-employed for over 12 years, operating a Creative Agency called DMINDED, located in Downtown Brampton. We're recognized as one of the best agencies in the city.
I have impacted so many people's lives for the better and continue to do so on a daily basis. Stuttering has always been part of me even though I try my hardest to overcome it. There are always times where it hits me but I learn to not let it effect my life. It is a daily struggle, but I accept it and know that anything is possible in this world. Once you set your mind to it, you can achieve greatness!
CTV news story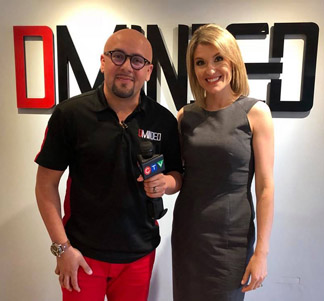 Shaun is interviewed by CTV reporter
Recently I went public with my story on CTV News Toronto & CP24. This was a big step for me, as I opened up about my stuttering to the world. I made it public to show people that no matter what you are going through you can make something out of your life. It gave me the extra motivation to continue to help people. The positive encouragement I received was mind blowing. So many messages, positive phone calls and a lot of doors opened up for me. I achieved my dreams, so can you!
I'm stepping into motivational speaking in October to help people deal with struggles in their life and get ahead. Stuttering is something I am not ashamed of anymore as I accept it and I am determined to get better. On October 30 I am being interviewed to discuss stuttering at the Rose Theatre in Brampton. I will be opening up about my CTV News Interview and business success. If you live in the area, please join me!
Shaun lives in Brampton with his wife and son, and runs the award winning creative agency Dminded. You can get tickets to his event in Brampton on October 30 here.