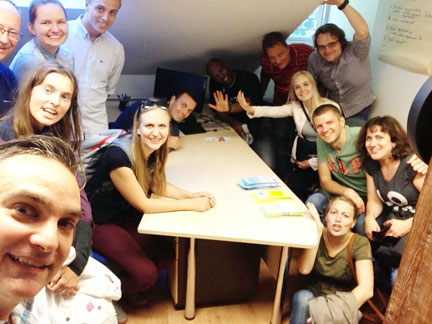 I've been attending and participating in Canadian and American stuttering conferences for seven years and was always eager to check out conferences in other countries. That opportunity came up when my friend, Anita Blom, told me about the Nordic Stuttering Seminar 2016 taking place in Finland from September 2 to the 4th, that included a trip to Estonia.
Visit not one but two new countries? And meet new people who stutter from across Europe? Count me in!
Free your stutter in Finnish nature
Hosted by the Finnish Stuttering Association, the seminar took place at a spa hotel beside an enormous lake and surrounded by large, beautiful trees in Hämeenlinna, a city about an hour's drive north of Helsinki. It's no coincidence that the theme of the seminar was "Free your stutter in Finnish nature."
What a great time I had! There were many icebreakers, a lake cruise, a nature group photography workshop, a scientific workshop where we got into groups and discussed environmental factors in stuttering, group saunas, toured a medieval castle, and hotel room parties. Everyone spoke English and were very welcoming to me and my fellow first timers.
There were about 60 attendees including 30 young adults from across Europe. Fun fact: the Nordic seminars started out being attended only by people from the nordic countries but over time, more attendees from the rest of the continent started to attend as delegates from the European League of Stuttering Associations (ELSA) meetings wanted to travel to other places to meet each other again. They felt the Nordic seminars were the perfect fit. So now, the seminars are becoming more international. With me and my American friends, who also attended, adding a little more international to the mix!
Anita told me that there's a bright future for the organization as more young people are attending. "I've watched them grow up and now they are chairmen, board members and organizing conferences such as this one," she said. I could tell she was very proud of "[her] kids." Every year the Nordic seminar is held in a different country in Northern Europe. "The neat thing about the Nordic Seminar is since it's organized by the host country's stuttering association, there is something different every year."
The Nordic seminars also have a fun tradition at the end of the formal dinner on the last night. Attendees from each country get together to put on a "show." For instance, this year attendees from Iceland got everyone to stand up and perform the Iceland soccer team's Viking call famous during the World Cup. Attendees from Sweden acted out a trivia game complete with props; the Norwegians did a rap/dance; the Americans did an elections sketch; attendees from Finland translated and sang a famous Finnish folk song to a ukulele. Being the sole representative from Canada, I gave a one-man Canadian trivia show giving away copies of my book as prizes while I explained a few fun facts about my country, and our two national associations, the Canadian Stuttering Association and Association des Bègues du Canada.
Strolling around Tallinn, Estonia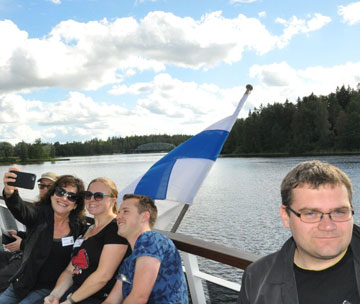 The trip to Tallinn, Estonia was hosted by the Estonian Stuttering Association and was equally a lot of fun. After a relaxing 2-hour ferry boat ride watching the sunset, we were picked up by the friendly members of the Estonian Stuttering Association and brought to our really cool hotel. The following morning, they treated us to a guided walking tour and taught us the rich history of Estonia and the various landmarks around the beautiful medieval, walled city of Old Tallinn. We also toured its secret tunnels along with a trip to the offices of the Estonian Stuttering Association and paid a visit to an ex-soviet-era prison! We ate in really cool restaurants that were beautifully converted from former farms and beer distilleries.
My new friends and I enjoyed Old Tallinn so much that we retraced our steps at night to see the entire city – old and new – all lit up complete with panoramic views. Everyone was stuttering openly and comfortably. In fact, the topic of stuttering rarely came up. We were all good friends hanging out, enjoying each other's company. And we just happen to stutter.
I have always said on my podcast and book that one of the best things a person who stutters can do is to hang out with others who stutter. With all the new friends I've made and hung out with, this was one of the best trips I've had in a long time!
Just like the NSA motto says, "If you stutter, you aren't alone" 
Actually, I'd also like to say that if you stutter, you may never travel alone! On my way back home to Canada, I made a three-day stopover in breathtaking Iceland. It was a trip on my own to explore one of my bucket list destinations (though I found that three days was much, much too short. What was I thinking?). Thanks to a kind offer from Àrni Birgisson, a new Icelandic friend I made at the Nordic seminar, to show me around the sights of Reykjavik on my first day, I learned so much more than the average tourist. Nothing beats checking out a new city with a local! In fact, during the Nordic seminar, I've heard many stories of old friends visiting each other's home countries and going on vacations together.
In fact, before heading over to Hämeenlinna, I stayed in Helsinki with a few old friends of mine from the United States who I met at NSA conferences and have been or are currently Stutter Social hosts. On our first night in Helsinki, we joined a group of Nordic seminar attendees which included a few people who I've previously met at this year's joint World Congress in Atlanta, U.S.A. We were celebrating a friend's birthday who, speaking of which, will be travelling to the U.S. this year to visit friends she made at the congress.
See why I say stuttering is cool?
After a lifetime of covert stuttering and fearing social situations, and relatively recently letting my stutter out and making new friends in the process, these kinds of experiences are truly a breath of fresh air and a great way to be motivated to live your life stuttering confidently. Plus, you don't feel alone in your stuttering.
Hope to see you next year!
In 2017, the Nordic Stuttering Seminar will be taking place in Lillehammer, Norway, another country on my bucket list travel destinations…
 Daniele Rossi is a cartoonist and digital media creator living in Toronto, Canada. He has been active in the stuttering community since 2007 when he launched his Stuttering is Cool podcast. In 2013, Daniele published an illustrative motivational book about living with stuttering with the same title which is currently being used as a textbook or teaching aid in 7 universities across North America. In 2011, Daniele co-founded Stutter Social, facilitating group video chats for people who stutter with regular participants from over 50 counties. Daniele is an adjunct board member of the Canadian Stuttering Association and draws comics for the newsletter of the Association des Bègues du Canada. Daniele started stuttering when he was 4 years old when disco was all the rage.