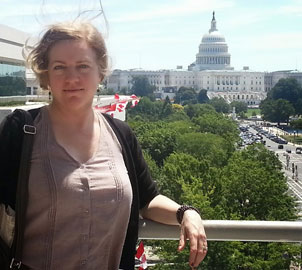 On the terrace of Washington's Newseum
The 2014 NSA Conference was a huge success. It took place in the beautiful and historic city of Washington, DC, and was the biggest conference ever with just over 970 attendees. It was my first time at the conference and was a truly memorable experience. There were many interesting people to meet and talk to, things to do in the city and interesting workshops and social events to attend.
The conference featured presentations by speech-language pathologists Nan Ratner, William Parry and audiologist David Luterman. Also presenting were people who stutter such as Pam Mertz, Canadian Mary Wood and Roisin McManus, . Researcher Dennis Drayna gave an update on genetic research into stuttering.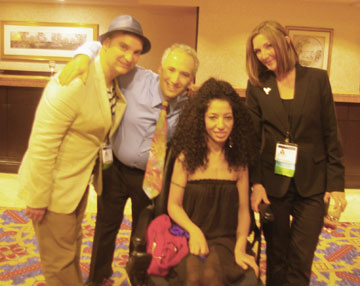 Some NSA conference attendees
During the closing ceremonies Special Guest Speaker Parker Mantell, the valedictorian whose speech at Indiana State University went viral this year, shared his successes and challenges. During the open microphone session, some young people went to the stage to talk about the difference the conference made for them. A father who stuttered, who was there with his daughter who also stuttered, gave a moving talk speaking directly to her, encouraging her never to hide her stuttering and to be proud of who she was.
Before I went, people told me that the NSA Conference was a moving experience, and they were right! Next year the conference is in Chicago, and it is definitely tempting to make another trip to enjoy all the benefits the NSA Conference has to offer people in the stuttering community.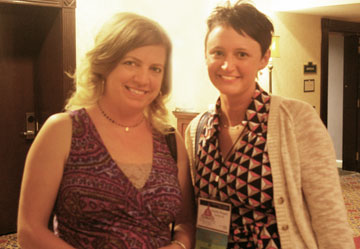 Lisa and Natalie