A Message from the Family and Youth Programming Coordinator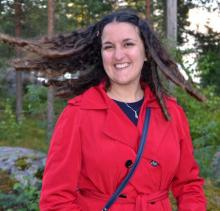 Hello families of the CSA! My name is Alexandra D'Agostino and I am the Family and Youth Programming Coordinator for the CSA.
In my role thus far, with the help of a wonderful team of people who stutter, I have created and started a monthly nationwide online Youth Support Group, I have designed landing pages for adults, teens and youth on our website, I have spoken to parents of children who stutter and given support and found them resources within their respective communities, and most recently, I have been planning the full day youth programming we are offering at our upcoming in person conference at the Crowne Plaza in Niagara Falls, Ontario from October 21-23!
Along with my committee, we have been hard at work the past couple months curating a wonderful and enticing program of workshops for youth ages 6-11! We will be offering a wide variety of workshops including, but not limited to; youth improvisation, poetry slam, artwork and comic creation workshops, speed friending, and so much more! This year we are also offering a special one of a kind workshop to help connect parents with their children who stutter, like never before! I myself can vouch for how amazing and life changing going to my first stuttering conference with my parents was, and we have never looked back! It brought us closer together and gave my parents insight into my stuttering world they never fully understood until coming to this type of conference. And our relationship is still going just as strong 11 years later!
This will be an event for your family you won't want to miss, and our rates, thanks to the generous funding of some of our donors, is at a low price right now! We're offering family registration for the conference starting at $180 for 2 days, and you can book your hotel room for as low as $109/night, but only until October 3rd when both rates will increase! Want to stay longer or have other children with you? There is an indoor water park for you and your kids right down the road! Consider registering your family today for this life changing event, and we look forward to seeing you there!