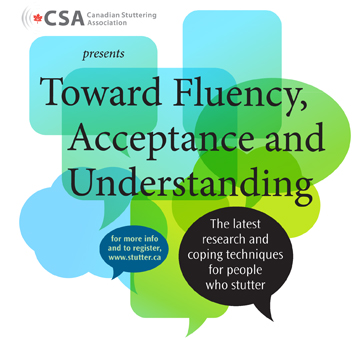 Toward Fluency, Acceptance and Understanding
The latest research, therapies and support for the 1 in 100 Canadians who stutter
The Canadian Stuttering Association, in conjunction with the Speech and Stuttering Institute and the University of Toronto, presents a thought provoking and informative event for stutterers and their supporters. Researchers will discuss up-to-date scientific studies. People who stutter will share their stories and show some of the options available for day to day management of stuttering. This event will take place October 25 the same week as Stuttering Awareness Day. Check out the Website!
Please join us!
DATE: October 25, 2014, 10 am- 4 pm
PLACE: YMCA Central, 20 Grosvenor St, Toronto (5 min. walk from Wellesley subway station or park for $5 across the road)
TICKETS: $15 early bird per person attending (book by September 10th), $20 thereafter or $25 at the door, Families or groups to four just $30. For information on purchasing tickets email us. ONLINE REGISTRATION WILL BE AVAILABLE BY AUG 30.
A buffet lunch will be provided.
If you want to find out more on the causes, support others who stutter, or tap into the latest treatment approaches, this event in the heart of Toronto is for you.
What treatments and techniques work best - for older children, teens, and adults?
Why does stuttering vary so much?
What do we know about the causes?
This one-day event will bring together families and people who stutter to find out the latest research and treatments. It will be presented in conjunction with the Speech and Stuttering Institute and the University of Toronto.
Highlights:
Two expert panels. The first panel will present the latest information on issues of stuttering causality, brain mapping and  neurological exploration.
The second panel (after lunch) will focus on the day-to-day management  of stuttering within a longer term program - such as coping mechanisms  and emotional management strategies.
Question and answer discussions on the latest stuttering treatment  and the brain research
Presentations from people who stutter
Find out about the Canadian Stuttering Association's plans to  re-build and reach out from our roots in Toronto.
Please join us in helping the CSA create hope and support for people who stutter.