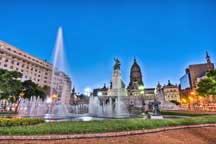 Buenos Aires
The 9th World Congress and the 2nd Latin American Congress on Stuttering
To be held 18, 19, 20 and 21st of May 2011 - Buenos Aires - Argentina
The 2011 International Conference is here!
People who stutter, parents and professionals, who will participate in the conference belong to many different countries such us: Argentina; Venezuela; Spain; Poland; United States; Canada; Germany; France; Hungary; Netherlands; Japan; Kenya; Nigeria; South Africa; Iran ; Sudan; Sweden; Portugal; Greece; Belgium; Denmark; Croatia; Lithuania; Arab Emirates; Uganda.
As you may see we will have much diversity of cultures, languages and ideas!
For more information and the program, go to the website.