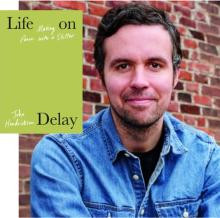 John Hendrickson is an American journalist who has recently written an autobiographical book about coming to terms with his stutter. In a recent article and interview for CBC, he tells Sunday Magazine guest host David Common about how interviewing US President Joe Biden gave him new perspective on how people who stutter approach the challenge. That article, published in The Atlantic magazine, What Joe BIden Can't Bring Himself to Say, received international attention, and John got a multitude of correspondence from people who stutter around the world. 
The Canadian Stuttering Association is quoted in the CBC article, as well as comments by CSA board member Catherine Moroney.  She has stuttered since childhood – an alienating experience especially given no one else in her family stutters. But she found her family of fellow people who stutter by becoming involved in organizations in Canada, the United States and Internationally. It was a relief to be able to interact with others who really understood.
Moroney appreciates Hendrickson sharing his story, knowing it will inspire others who share the challenge, saying, "Realize that your voice is just as valuable as anybody else's. It's not a failing."
Read the article here.