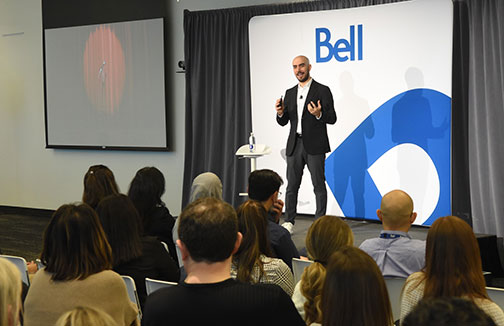 Joze Piranian, inspirational speaker, CSA member and person who stutters, participated in Let's Talk Day, an event sponsored by Bell Canada to address issues of mental health.
At the Bell Campus in Mississauga, Joze's speech was attended by 1400 Bell Canada employees nation-wide both in-person and virtually.
On his Facebook page, Joze says, "I am grateful for the opportunity to have shared my story of overcoming obstacles and conquering fears through the lenses of mental health, resilience and inclusion. Your incredible response, both in person and online, has been incredibly heartwarming. Merci, Merci. A huge shoutout to the amazing team at Bell in both Mississauga & Montreal who co-created this impact with me. The incredible work that you do has revolutionized the conversation around mental health in Canada & beyond."
On their LinkedIn Feed, Bell posted "in honour of #BellLetsTalk Day, #TeamBell had the chance to hear motivational speaker Joze Piranian share his inspirational story of conquering fears and confronting challenges. His talk was infused with stand-up comedy and touching personal anecdotes about holding back due to his stutter. Thank you Joze for sharing your story with us – you are a true inspiration!"
Congratulations to Joze on yet another successful event!