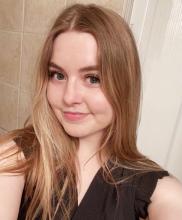 Every year, the CSA offers an award of $500 to a Canadian citizen or permanent resident of Canada who is enrolled in post-secondary education and who happens to be a person who stutters. 
We are happy to announce that this year's CSA Award winner is Zara Abraham! 
Zara is enrolled in the Veterinary Technology (VTEC) program at Thompson Rivers University in Kamloops, BC. To support her studies, she spent her summer working full time at a Veterinary Clinic to help pay for her second year of school, doing what she loves and what will help her in her studies too! 
To quote her:  "Being in an environment I loved and felt comfortable in did not fix my stutter, but it gave me the motivation to keep moving forward and to not let myself let my stutter hold me back." On top of that she was elected Class President. She is an inspiration and on behalf of the CSA Board of Directors and this year's CSA Award Committee, we are honoured to be able to offer her the award.  Congratulations, Zara!